艺术家移民规划指导
跃铃国际传媒公司成立于2012年,在中国和美国两地建立实体办公,与多家国际机构建立了牢固的合作关系。该公司是一家从事电影和音乐制作、创意规划和媒体推广的专业媒体制作公司。我们以提供创意规划、电影配乐、音乐制作、后期制作、全球发行、艺术展览、演出和媒体推广等服务为背景支持。
近年来由专业艺术经理人领队,配合专业律师团队,提供O1/EB1/NIW专项申请规划指导服务。于此同时,我们将为成功申请O1/EB1/NIW的客户提供相关的职业签约服务的机会,以帮助艺术从业者提供多一个工作的机会及项目的优先推荐。
我们提供针对艺术家申请O-1/ EB1/NIW的专业规划指导服务。我们经验丰富的团队将引导艺术家通过申请流程。帮助艺术家们了解申请要求,并最大程度地提高申请成功的机会。我们的服务涵盖了从资格评估到文件规划指导和申请提交的全方位支持。针对每位艺术家的独特背景和成就进行个性化的指导。我们致力于简化O-1.EB1和NIW的流程,帮助艺术家顺利迈向在美国发展职业的道路。我们的咨询团队不仅熟悉签证法律和程序,还与艺术家建立紧密的合作关系,助力他们成功实现在美国的艺术事业。
Yue Ling international media LLC was established in 2012, with physical offces in both China and theUnited States, and has built strong partnerships with multiple international institutions. As aprofessional media production company, we specialize in flm and music production, creativeplanning, and media promotion. Our services include creative planning, film scoring, musicoroduction, post-production, global distribution, art exhibitions, performances, and mediapromotion.
In recent years, led by professional art managers and supported by a dedicated legal team,we have provided specialized guidance and planning services for 01/EB1/NIW visaapplications. Additionally, for clients who successfully obtain 01/EB1/NIW visas, we offeropportunities for career contracts, prioritized project recommendations, and additional jobopportunities to further support artists in their professional journeys.
We provide professional planning and guidance services specifcally tailored for artistsapplying for O-1/EB1/NIW visas. Our experienced team will guide artists through theapplication process, helping them understand the requirements and maximize their chancesof success. Our services cover comprehensive support, from eligibility assessment todocument planning and application submission. We provide personalized guidance based oreach artist's unique background and accomplishments. Our aim is to simplify the 0-1, EB1and NIW processes and assist artists in pursuing their careers in the United States. Ourconsulting team is not only familiar with visa laws and procedures but also establishes closepartnerships with artists, empowering them to succeed in their artistic careers in the UniteoStates.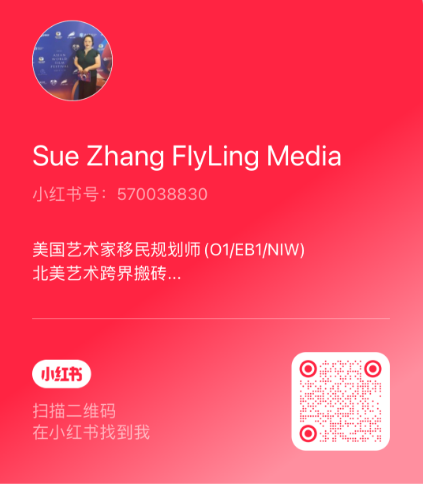 欢迎大家扫描二维码或直接点击图片找我
Welcome to scan the qr code or directly click on the image to find me